The eco-lodges of Ensarnaut
Frequently Asked Questions – FAQ
Frequently asked questions
The answers to frequently asked questions
What exactly is a cottage, how do you eat?
The cottage is a house (or part of a house) completely equipped so that you are totally independent (bedroom, bathroom, living room and kitchen.) There is therefore a refrigerator, oven, cooking plates and all the required equipment to cook good meals. The local producers will delight you with their local recipes and you will discover the charm of the small rural grocery stores, surprisingly well stocked. We do not have a table d'hôtes in Ensarnaut, but there are several small restaurants and farmhouses in the area, if you do not want to cook.
In what way are your cottages "ecological"?
We have renovated old rural buildings, keeping the existing volumes, choosing traditional materials and having the least possible impact on the environment. (considering the transport, the energy required and the harmfulness during manufacturing, the renewable side etc…) Untreated Douglas fir structural wood, terracotta floors from a local family tile factory, fir frame protected with organic paints, lime mortars, raw earth plasters, solar hot water, green electricity via Enercoop (a local "green" provider), rainwater harvesting, wood heating, cellulose and hemp wadding insulation, double glazing, waste water treatment with planted filters, zinc gutters etc… We worked exclusively with local craftsmen. Our concern for coherence obviously extends to the entire Ensarnaut estate, which is a "natural refuge", maintained without pesticides, in biology, and our ponies are raised in an "ethological" way, i. e. by respecting their basic needs as social herbivores (herd life, freedom of movement, permanent access to a natural and varied diet…)
Can we rent your cottage for more or less than a week?
Except during school holidays, you can rent a cottage "à la carte", from 2 nights, and for the number of days that suits you. Please do not hesitate to contact us, we will see together the possibilities to satisfy you….
What if we are not interested in ponies ?
The cottages are obviously intended for lovers of calm, nature, beauty, hiking, countryside, friendliness and sweetness of life. Ponies are a plus that you absolutely don't have to worry about if you're not interested. The domain is so vast, that if you don't look for them, you can spend a week without meeting them. That said, it is difficult, even for the most resistant, to remain insensitive to the sight of the herd moving through the landscape or galloping down a slope.
Can we come in Winter to your ecological cottages?
The Eco-Lodges of Ensarnaut are open all year round. The cottages are very comfortable, and the wood stoves efficient. Furthermore the inertia of the materials (raw clay, terracotta) brings a feeling of real well-being. The cottages are preheated and already pleasant when you arrive. To reassure the most chilly ones, the bedrooms and bathrooms are equipped with electric inertia radiators. (Which were not used last winter!) The rental price includes 1/4 of wood stere. Regarding the climate, we realized that there was no way to store the garden furniture, the slightest thinning allowing us to eat outside all year round.
Regarding the prices displayed for a week, are they per person or per cottage?
The rates always indicate the price of the rental of the cottage, whatever the number of people who occupy it (without exceeding the maximum capacity, of course)
What does a "5 to 7 person" capacity mean ?
The cottage can accommodate 5 people in the 2 bedrooms, and 2 people on the mezzanine over the living room. (The beds on the mezzanine are exactly the same as those in the bedrooms, very comfortable, they are by no means "extra beds", only the space is more limited). But the whole cottage is very spacious, and the equipment is designed to be very comfortable at maximum capacity.
Can we bring a dog?
We welcome your well-bred dogs with great pleasure… if they do not plan to gut Jargonne, our Beauceron female dog (who only wants to play), to chase our ponies, or to frantically explore all the badger and fox dens on the property. (nature refuge obliges!) In any case, we ask you to inform us if you wish to bring a dog. You remain responsible for any damage your pet may cause.
Do you have any baby equipment?
On request, we can provide you with a cot equipped with sheets, a high chair and a small bathtub.
I see that the cleaning products are provided, to be compatible with the filters planted; can I use my usual shampoo?
We have oversized the filters a little bit, so that you can use your own toiletries (shampoo, soap, shaving cream etc…) Of course, if you want to take advantage of the holidays to start thinking about this subject and try more harmless products, nature will only be better off. (and you too, no doubt)
We are interested in orchids, when is the best time to see them?
Wild orchids explode in May and June. The different species (30 per cent!) follow one another, in the company of myriad swords, and therefore also butterflies. (72 species listed!) Macro photo lovers will be delighted. Orchids are very sensitive to competition from other plants. They have settled where man, with his herds, kept the landscape open, and it is the extensive grazing of our ponies that now guarantees the "cleaning" of their habitat.
We are interested in hiking , (on foot or by bike) but, without knowing the area, will we be able to enjoy it, or are we going to get lost?
In our eco-lodges, you will find hiking itineraries at your disposal, as well as maps of the surrounding area at 25/000. The Ensarnaut estate is bordered by a "short hiking trail" (PR), which is part of a network of 200 km of perfectly marked trails. The region's widely dispersed habitat is the source of a multitude of trails and small roads. If it is easy to "mislead", it is not easy to get lost, because you always find a path that goes somewhere, and there is always someone to inform you (The kindness and availability of the people here is not a legend!) In addition, the landscape offers you many landmarks at each summit (and magnificent panoramas!) Depending on your wishes, we will be able to advise you on routes.
Didn't the ponies, raised in freedom, become too wild to be ridden again?
Our ponies, living a life of ponies, (i.e. among the herd, free, able to choose their diet, in constant motion) are very balanced, serene and relaxed. They do not have the stress of confinement and forced inactivity, and therefore are not "nervous" like a horse that comes out of the box and lets off steam. Just because they are not mounted does not mean they don't move. As they do not work too hard, they do not overload and remain curious, cooperative and eager for contact You will see them coming, confident, to meet you and even follow you, seeming to say: "What shall we do now?"
The cottages seem lost in nature ...how can we get food ?
The end of the world is not so far away… The charming village of Simorre, 7 km away, awaits you. The mini-market is very well supplied, including local products, the butcher shop will make you discover the excellent meat labelled "Gascon beef", you will find a tobacco, a newsagent, a bakery, a pharmacy, a doctor, gasoline and a small market of local and organic producers on Friday evening. Other weekly markets will delight you within a radius of 15 km, the producers of foie gras, duck breasts, confits and prepared dishes made with duck and sheep are our direct neighbours. And if you want to go to a supermarket, between Masseube and Auch, there is a lot of choice (half an hour's drive) Not to mention the small local restaurants and farm inns.
If you haven't found the answer to your question above, please contact us on 0033 (0)5 62 65 03 58 or use our contact form to write to us.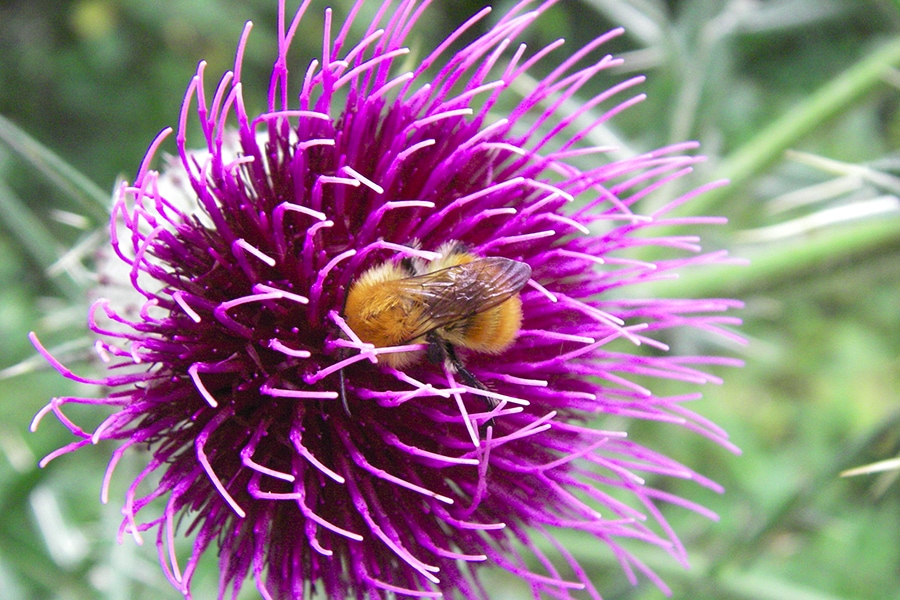 Let's keep in touch!
Get the latest news from Ensarnaut and keep up to date with rental opportunities by signing up for our "Echo des Logis".
We send one newsletter per quarter.
See you soon!